Part#: MMI11209
1:24 SCALE ROLLS ROYCE SILVER CLOUD
Product Details: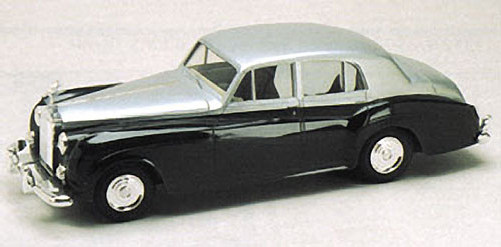 For ages 10 and up
Skill level 2

For most of this century, Rolls Royce has called their products "the best
car in the world." Oddly enough, hardly anyone has objected to this claim.
Reknowned for their comfort, performance, luxurious interiors, and meticulous
craftmanship, the Silver Cloud II has become a true collectors' car, eagerly
sought whenever one reaches the market. Its graceful and stately lines have
made it a truly classic Rolls.

FEATURES: Authentic 1/24 scale plastic model.
Parts are molded in black; chome and clear parts also included.
Luxurious looking car features chrome wheels, bumpers, and grille.
Authentic interior features front and back seating within the 4-door
vehicle, plus a dashboard and steering column.
Cementing hood is optional.
Radiator ornament and fog light in front.
Rubber-like tires are treaded.
Pictorial instruction sheet.

INCLUDES: One 1/24 Limited Edition 1962 Rolls Royce Silver Cloud II Revival Kit

REQUIRES: Assembly
Cement for plastics
Toothpicks or Glue Tips
Vinegar and Water for Cleaning Surfaces
Tape
Enamel Paint: Red, Silver, Black, Tan, Ivory, Brown, Light Walnut
Brown, White.
Brushes
Tweezers
Sprue Cutter
Hobby Knife
File or Emery Board


SPECS: Length: 8-3/4" (22.1cm)
Width: 3" (7.4cm)
Height: 2-1/4" (5.8cm)
Shipping cost will vary by dimensions or weight please call or email for shipping quotes.

Our Price: $24.29 Sold By: each