Part#: ACY14215
1:400 SCALE PASSENGER SHIP RMS TITANIC
Product Details: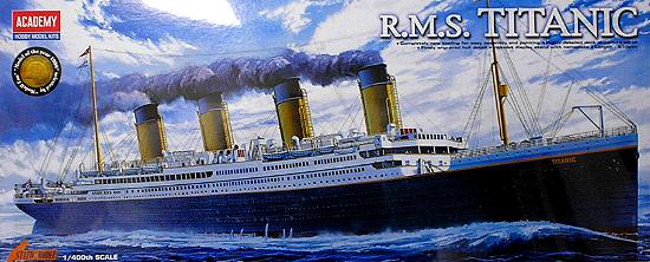 The Titanic sailed on her first and final voyage from Southampton, England
on 10 April 1912. At 11:40pm on Sunday, 14 April the ship struck an iceberg
in the North Atlantic and sank 2 hours and 40 minutes later. Only 705 of the
over 2200 people on board were rescued, setting the stage for sweeping changes
in the way ships at sea were operated. This Academy 1/400th scale model of the
Titanic has a number of unique features and is easy to build.

FEATURES: 1/400 scale kit for all modelers.
Kit consists of 430 parts molded in black, tan, white, yellow and
clear.
Model can be built straight from the box and look authentic without
painting.
Hull is one piece with good plate and porthole detail.
Top three decks (boat, A-deck, B-deck) are detailed and interior
decks are marked to show the layout of rooms and bulkheads.
Railings are molded plastic and preshaped to conform to the deck
outline.
Deck detail includes separate ventilators, lifeboats, compass
platform, benches, bollards, and capstans; decks also feature
molded in simulated wood grain finish.
Simulated gold plated anchors and propellers.
Plastic display base is included and features simulated gold plated
mini Titanic and nameplate.
Comprehensive 20 page instruction booklet which provides painting and
rigging details - thread for rigging is included.

INCLUDES: One 1/400 Titanic Ocean Liner

REQUIRES: Paint: Black, White, Dull Red, Wood Tan, Dk Brown, Grey, White Star
Buff, Bronze, Royal Blue, and Red
Hobby Knife
Paint Brushes
Sandpaper
Plastic Cement
Medium CA
Nice-to-have tools: Needle File Set, Sprue Cutter (see XURON),
Airbrush

SPECS: Scale: 1:400
Length: 26-1/4" (66cm)
Beam: 2-3/4" (7.1cm)

COMMENTS: Keep this product safely out of reach of children under 3

Shipping cost will vary by dimensions or weight please call or email for shipping quotes.

Our Price: $79.99 Sold By: each