Part#: ITA0127S
1:72 SCALE C47 DAKOTA SKYTRAIN
Product Details: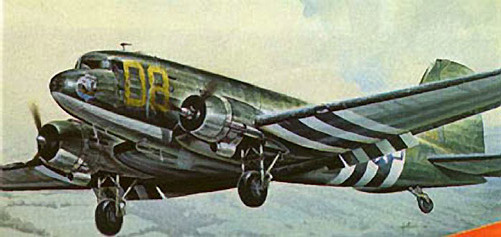 The DC-3 is one of the most famous aircraft in the history of aviation. Its
introduction in the 1930's revolutionised air travel and made it possible for
even the average person to afford to fly. When WWII began in 1939, the DC-3
was quickly adapted for military use and pressed into service as the C-47, also
known as the "Skytrain." The C-47 was used by all the Allied nations during
the war and continued in service long afterward. Eventually, some C-47's were
even converted to heavily armed gunships and used in Vietnam.

FEATURES: Detailed 1/72nd scale for static display only.
84 parts in olive green and clear with recessed panel lines.
Detailed engines, cowlings, landing gear and wheel wells.
Interior detail: cockpit with seats, instrument panel and controls,
plus full cargo bay floor and bulkheads.
Detailed landing gear.
3 optional types of carburetor air intakes on top of engine cowling.

MARKING
OPTIONS: Single decal sheet with markings for 2 aircraft:
1: C-47A, S/N 315159, "Z", 94th Sqdn, 439th TCG, USAAF, June 1944.
2: Dakota MkIII, S/N KG374, No 271 Sqdn, RAF, Normandy, 1944.
Airframe colors:
1 & 2: Overall olive drab with neutral grey undersides plus black &
white invasion stripes.
Additional Paints Required:
Flat: Black, Leather, Zinc Chromate, Brown, Dk Gull Grey, Dk Green,
Rust.
Gloss: Steel, Yellow, Gun Metal, Red, Green

INCLUDES: One 1/72 C-47 Dakota Aircraft Kit

REQUIRED: Assembly
Hobby Knife
Paint: (see MARKING OPTIONS)
Brushes
Sandpaper
Cement for plastics
Nice-to-have tools: Needle File Set, Sprue Cutter, Airbrush and
Associated Accessories

SPECS: Scale: 1/72
Wingspan: 15-3/4" (40.2cm)
Length: 10-3/4" (27.3cm)
Shipping cost will vary by dimensions or weight please call or email for shipping quotes.

Our Price: $29.99 Sold By: each