Part#: TAM60741
1:72 SCALE F4D-1 SKYRAY
Product Details: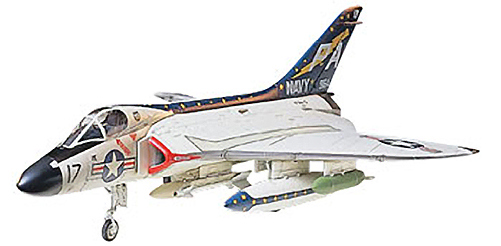 Nicknamed the "Ford," the Skyray was developed based on research by Dr.
Alexander Lippisch during WWII and is the Navy's only operational delta wing
interceptor to date. Over the course of its development and service life
during the 1950s, the F4D-1 set several speed records but never saw combat.
Its proposed successor, the F5D, was never produced.

FEATURES: Detailed 1:72 scale for static display only.
65 parts in light grey and clear with fine recessed panel lines.
Detailed landing gear and enclosed wheel wells.
Cockpit detail: control stick, instrument panel, one piece cockpit
tub, seated pilot figure, and 2 piece ejection seat.
Includes 2 drop tanks, 2 Sidewinder missiles, 2 bombs & 2 rocket
pods.

MARKING
OPTIONS: One decal sheet with 3 marking options:
1: VF(AW)-3, s/n 139164, A/C #17, US Navy.
2: VMF(AW)-114, s/n 139068, A/C #3, US Marines.
3: VMF(AW)-115, s/n 134895, A/C #16, US Marines.
Airframe Colors:
All: Gull Grey upper surfaces with Gloss white undersides.
Detail Colors:
Flat: Black, White, Aluminum, Dk Grey, Khaki Drab, Olive Drab,
German Grey.
Gloss Colors: Black, White, Blue, Red, Gun Metal, Silver.

INCLUDES: One 1:72 F4D-1 Skyray Airplane Kit

REQUIRES: Assembly
Hobby Knife
Paint: (see MARKING OPTIONS)
Brushes
Sandpaper
Cement for plastics
Nice-to-have tools: Needle File Set, Sprue Cutter, Airbrush and
Accessories

SPECS: Scale: 1:72
Wingspan: 5-1/2" (14.1cm)
Length: 7-1/2" (19cm)
Shipping cost will vary by dimensions or weight please call or email for shipping quotes.

Our Price: $15.79 Sold By: each