Part#: TSM02506
1:25 SCALE '02 AMERICAN LAFRANCE EAGLE FIRE PUMPER
Product Details: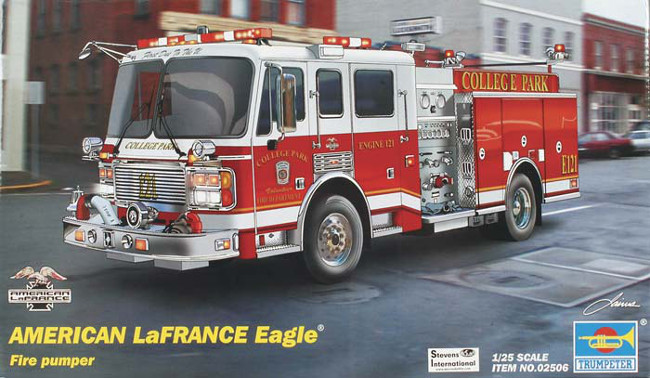 Suitable for Ages 14 & Older.

FEATURES: An accurate reproduction of a pump truck designed by American
LaFrance for the College Park, Maryland Volunteer Fire Department.
Unbelievably detailed Eagle® cab/chassis combination.
Impressively detailed eight-place crew cab interior.
Highly detailed water pump, suspension, and pressure tanks.
Exquisite pumper bodywork without a detail overlooked!
The 2-part hosebed cover is molded in the open position to give view
to the hosebed interior, which has individual compartments created
metal partitions with a rounded corner.
Intricately detailed pump module.
Photo etched plates with crosshatch tread.
Chrome plated extended front bumper with crosshatch tread and
equipment mounted separately.
Ladders mounted on the right side.
Simulated Goodyear G164RTD tires.
Shiny chrome wheels.
Complete with all of the lights, sirens, mirrors, and other
exterior details.
Authentically reproduced waterslide decals.
Illustrated assembly guide.

INCLUDES: (1) Plastic Model

REQUIRES: Assembly
Hobby Knife
Cement for plastics
Paint (Black, Yellow, Silver, White, Red Madder, Clear Red, Red,
Clear Orange, Aircraft Gray, Super Silver, Flat Black,

SPECS: Scale: 1:25
Approx. Length: 13-1/2" (342mm)
Cab Width: 3-7/8" (98mm)
Shipping cost will vary by dimensions or weight please call or email for shipping quotes.

Our Price: $83.99 Sold By: each