Part#: ACY13237
1:35 SCALE M2 BRADLEY IFV
Product Details: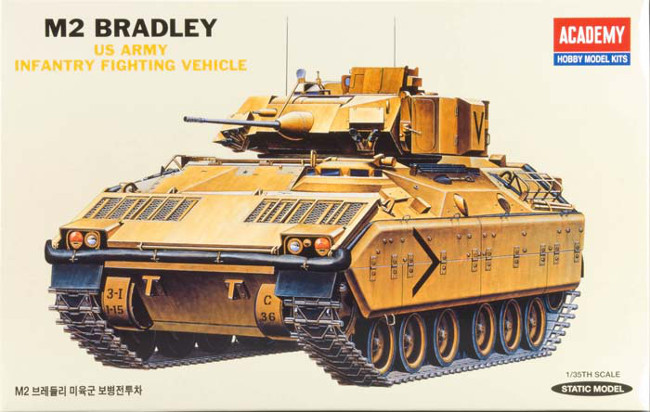 It's for experienced modelers.

The M2 Bradley is one of the newest additions to the inventory of the US
Army and was used with great success during Operation Desert Storm in 1991.
The Bradley is an armored personnel carrier equipped with a turret mounted
cannon, effective against enemy troops and lightly armored vehicles.

FEATURES: Highly detailed 1:35 plastic kit for static display.
285 parts in tan plastic with flexible PVC tracks.
Detailed chassis with individual suspension arms and road wheels.
External details: optional position rear hatch, tow cable, tow hooks,
lights, machine gun and mount, tools, separate front hatch, and
camouflage netting.
Tracks are one piece flexible vinyl rubber.
Authentic interior detail featuring: seats, flexible machine gun
ports, turret base, & driver's controls.
One figure with optional position arms.

MARKING
OPTIONS: One decal sheet with markings for two vehicles:
1: U.S. Army, European.
2: U.S. Army, Desert.
Color Scheme:
1: Overall Olive Drab.
2: Overall Armour Sand.
Additional paints Required:
Flat: Black, White, Olive Drab, Rust, Orange, Sky.
Gloss: Gun Metal, Silver.

INCLUDES: One M2 Bradley Infantry Fighting Vehicle (IFV)

REQUIRES: Assembly
Hobby Knife
Paint: (see MARKING OPTIONS)
Brushes
Sandpaper
Liquid Plastic Cement
White Glue
CA or Tube Type Thick Plastic Cement
Nice-to-have tools: Needle File Set, Sprue Cutter, Airbrush

SPECS: Scale: 1:35
Length: 7-1/2" (19cm)
Width: 3-1/2" (8.8cm)
Shipping cost will vary by dimensions or weight please call or email for shipping quotes.

Our Price: $27.89 Sold By: each