Part#: ACY13255
1:35 SCALE U.S. ARMY M18 HELLCAT
Product Details: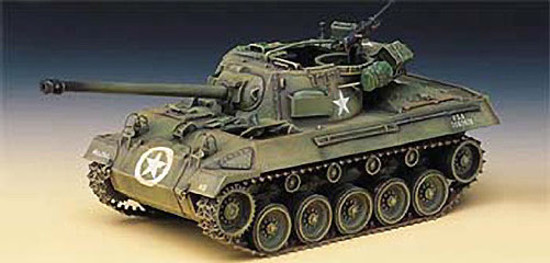 It's for experienced modelers.

The M18 Hellcat is not really considered a tank, but is designated as a
gun motor carriage. This means it is mobile artillery intended more for
infantry support. The M18 was used primarily during WWII. It was quite fast
for a tracked vehicle, with a top speed of 55mph. It was powered by a
9-cylinder radial engine producing 340 or 400hp. A total of 2,507 M18s were
produced between July 1943 and March 1945.

FEATURES: Highly detailed 1:35 plastic kit for static display.
378 parts in dark green plastic with flexible rubber tracks and tyres
Rotating turret with an elevating gun.
Detailed road wheels with separate suspension arms.
External details: spare track links, headlights, machine gun,
antennae, tools and storage boxes, turret railings.
Tracks are 5-piece flexible rubber type.
Full interior with front differential unit and gun breech details.

MARKING
OPTIONS: One decal sheet with markings for two vehicles:
1: U.S. Army, France, September, 1944.
2: U.S. Army, Germany, December, 1944.
Color Schemes:
1 & 2: Overall Olive Drab.
Additional paints Required:
Flat: Black, White, Red Brown, Dark Red, Khaki, Wood.
Gloss: Gun Metal, Silver, Metallic Grey.

INCLUDES: One 1:35 M18 Hellcat US Army Gun Motor Carriage

REQUIERS: Assembly
Hobby Knife
Paint: (see MARKING OPTIONS)
Brushes
Sandpaper
Liquid Plastic Cement
White Glue
CA or Tube Type Thick Plastic Cement
Nice-to-have tools: Needle File Set, Sprue Cutter, Airbrush

SPECS: Scale: 1:35
Length: 7-1/2" (19cm)
Width: 3-1/4" (8.2cm)
Shipping cost will vary by dimensions or weight please call or email for shipping quotes.

Our Price: $34.99 Sold By: each