Part#: YSE0031
FZ115ws
Description:

All Engines shipped will be charged Actual cost of shipping.
All Engines will be shipped Via Fed Ex with Signature Required.

All engines must be paid by Paypal.
Sorry no exceptions.
Displacement 18.73cc
Bore 30.4mm
Stroke 25.8mm
Weight 730g
This is the Warbird Race edition of the YS FZ115. It has a dished piston for use with high nitro fuels and a crankshaft seal to increase the supercharging affect. It is also a great sport/aerobatic engine on 15 - 20% nitro fuels. It does not come with a muffler or a glow plug. The FZ115ws comes with a 75 degree open stainless steel exhaust pipe (YSE0895), no muffler. We recommend the NMP Aluminum Racing Stack for the exhaust for racing, or the FZ115 standard muffler (YSE4335 muffler set) for sport flying and a OS Type F 4-Stroke glow plug.
Recommend products:
O.S. Type F Glow Plug recommended

Props
For Racing use:
Brake In- APC 14x11
40% and up- APC 13.5x13.5, or APC 14x13
30% - APC 14x12, or APC 14x13
For sport and aerobactis
APC 15 X 10 - 16 X 8

Fuel Tank
Racing:
TET4035 20oz
TET4034 16oz
Sport:
Dubro 12oz -20oz
Note this engine will burn 1oz or more of fuel per minute at full throttle so size tank accordingly.
(Glow Plug Not Included)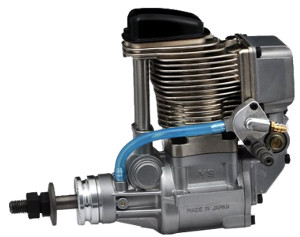 Our Price:

$499.00