ADHESIVES : CA ADHESIVES
Central Hobbies Cyanoacrylate (CA) Adhesives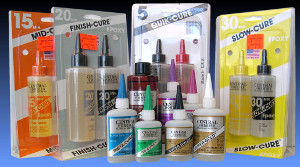 High quality Cyanocrylate (CA) adhesive, or instant glue, is the adhesive of choice for modelers all over the world.

CAs are similar to Super Glue or Crazy Glue but are higher quality and specifically formulated for model builders and RC hobbyists.

When used properly, CA adhesives form a bond that is actually stronger than the material being bonded.
CAs are reactive monomers that chemically link or polymerize when pressed into a thin film. A catalytic reaction occurs creating an instant bond when using the Central Hobbies Insta-Cure accelerator..
Central Hobbies brand is made by one of the leading manufacturers and is the same industrial formula used by Boeing, Cessna, Beechcraft and Tesla and other aerospace companies.
We stock a variety of these adhesives with different set up times and viscosities to accommodate various hobby applications.
Central Hobbies CA adhesives are not just for hobby use. Our customers include Archaeologists, countertop and cabinet manufactures / installers, furniture and antique restoration specialists, woodworkers of all types, custom firearm makers and many others.

If you need assistance selecting the correct adhesive for your project, the chart below will help.
(Click on image to enlarge.)
Part#: BSI158H
CENTRAL HOBBIES SUPER FIX SYSTEM 1oz
Description:
Super-Fix™ is two-part adhesive system developed to fill gaps and voids. It is sandable and paintable and cures in 1 - 3 seconds. Super-Fix™ is great for repairs at home, on autos, boats, and motorhomes. The super-thin consistency is perfect for bonding Metal, Plastic, Wood, Ceramics, Rubber, Leather, Glass, Auto Bumpers, Fiberglass, and more.
Our Price:

$7.49



Part#: BSI105
PLASTIC-CURE CA
Description:
Plastic-Cure™ is a gap-filling formulation of CA that works best on plastics. It is packaged in a bottle with a brush built into its top, which in many cases is an easier way to apply the CA. As long as brush is put back into the bottle after use, the bristles of the brush will not harden. Care must be taken, however, not to introduce foreign material into the bottle. The brush should not be used, for example, to apply CA to wood that has been freshly sanded. Plastic-Cure will also bond wood, but its brush applicator at times will not be the best way to apply it. Plastic-Cure is superior for the application of false nails and wraps on fingernails, where its brush is the preferred method of application.
Our Price:

$5.25




Part#: BSI117
CENTRAL HOBBIES 1/2oz IC-2000 CA
Description:
IC-2000 is the recommended adhesive for assembling the CENTRAL HOBBIES CARBON FIBER pushrods with the TITANIUM ends.
IC-2000™ is a rubber-toughened cyanoacrylate that forms superior shock resistant bonds on non-porous surfaces. The black colored CA has added flexibility for the bonding of metals, fiberglass, rubber, carbon-fiber and other advanced materials. For model use, IC-2000™ is ideal for the bonding of bulkheads, formers and servo rails to the inside of fiberglass hulls and fuselages. Setup time is 20-40 seconds, which can be accelerated with INSTA-SET™. When cured, IC-2000™ is pliable enough to be carved with a hobby knife. IC-2000™ is the best adhesive for R/C car tires.
IC-2000™ has found many uses in industrial applications, such as rubber to rubber bonding by Beechcraft, carbon composite bonding by Boeing, rubber door seals by Volkswagen, speaker and subwoofer assembly in the audio industry and many others that need the most durable, shock resistant fast bonding adhesive that is available.
Also great for golf club assembly.
Our Price:

$5.25