ADHESIVES : CA ADHESIVES
Central Hobbies Cyanoacrylate (CA) Adhesives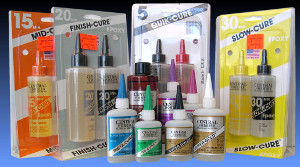 High quality Cyanocrylate (CA) adhesive, or instant glue, is the adhesive of choice for modelers all over the world.

CAs are similar to Super Glue or Crazy Glue but are higher quality and specifically formulated for model builders and RC hobbyists.

When used properly, CA adhesives form a bond that is actually stronger than the material being bonded.
CAs are reactive monomers that chemically link or polymerize when pressed into a thin film. A catalytic reaction occurs creating an instant bond when using the Central Hobbies Insta-Cure accelerator..
Central Hobbies brand is made by one of the leading manufacturers and is the same industrial formula used by Boeing, Cessna, Beechcraft and Tesla and other aerospace companies.
We stock a variety of these adhesives with different set up times and viscosities to accommodate various hobby applications.
Central Hobbies CA adhesives are not just for hobby use. Our customers include Archaeologists, countertop and cabinet manufactures / installers, furniture and antique restoration specialists, woodworkers of all types, custom firearm makers and many others.

If you need assistance selecting the correct adhesive for your project, the chart below will help.
(Click on image to enlarge.)

Part#: HOTR2300
Golden West Super Solvent 2 Oz
Description:
This is a 2 oz. Bottle of Hot Stuff Ultra Super Solvent for cyanoacrylate instant glues.
More Info
Our Price:

$7.98

Sold By: each

Part#: BSI158
CENTRAL HOBBIES SUPER FIX FILLER 1OZ
Description:
This is a 1oz bottle of Central Hobbies Super-Fix Welding Powder and is a two- part adhesive that is to be used with the Central Hobbies Insta Cure adhesive.
Our Price:

$7.49

Sold By: each